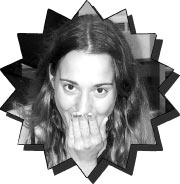 Put down that Capri Sun, Johnny Freshman, this ain't Sally High School no more.
Forget that Jordache jumper, Ima Freshlady, those went out of style in Ninety Ninety Never.
Wipe away that Welch's, Jose Freshmanté, this ain't Louie Lunchroom Hall no more.
Ditch that metal Care Bears wastebasket, Mr. Freshmister, those haven't been hip since Yonder Yesteryear.
Skip the rhinestone crutches, Paulie Poundmefreshman, unless you want a Senior Sandwich.
Throw down that garbage-pancake, Shakespeare McDummykins, this here's a hamburger town.
Drop those linoleum knickers, Stanley Sumpadumpafirstyear, there's no sense hiding that panty line!
Say so long to your hump-bucket, Humpy Humpalottafrosh, that train died out with the Humpasaurus.
Lose the Penis Lapel Pin, Johnny Backwards, no one has worn them since Lickety Lastyear (2000).
Cut out the crop dusting, Lenny Oldfrosh, the Depression was in 1933.
Cover up those gills, Kevin Costnerfreshman, Waterworld was not a good movie when it came out in, now get this, 1996!
Close that internment camp, Racy Racistein, racism has never been in style.
It's closing time in "Animal Pancakes Land", Babytown, they just foreclosed on Toddler's House.
You don't need that mop anymore, Tony Danza, Who's the Boss went off the air in 1993.
Get rid of the snorkel and mask, Aqua Aquawater, the pool was drained three days ago. But it will be available Thursday (the 21st). (Not this Thurs., next Thurs.)
Stop wearing shoes, you stupid Grilledcheeseveryday-everyway guy. They just don't mix.
Take off that sheet metal and plastic, Roy Boy, the future's not till next year. And she's wearing wood!
Toss out that Hebrew school field trip permission slip, Arnie Sasserstein, Jesus was born over 2000 years ago. And then some people ended your religion.
Nix the Tim Curry impression, Susan Sarandon, the Rocky Horror convention is down the hall. In 1975! In DorkWorld! Susan SaranDORK!