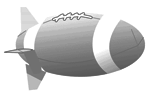 Matt Pearl
Andre the Giant
Tackle
He's really big and strong and stuff.
The Invisible Man
Wide Receiver
He's invisible so like no one can stop him.
Gary Coleman
Kicker
Small, but mean as shit; the kid's got quite a leg.
Pazuzzu
Punt Returner
The Sumerian god of flight; 180 hit points.
Eric Saxon
Jesus Christ
Wide Receiver
Unbelievable.
Little Baby Animal
Wide Receiver
Wuvs his way through defensive meathead's hearts; eats them.
Bilbo Baggins
Wide Receiver
Peaceful pipe-smoking halfling; will do anything to extend the game and avoid hideous hobbit wife.
Nike
Wide Receiver
Exploitative multinational skull-crushing organization; free uniforms!
Dave Lampson
God
Quarterback
Good instincts, can create under pressure. Unreliable in the clutch.
The Sphinx
Wide Receiver
Crafty offensive moves. Excellent stamina.
Smeargull
Tailback
Slippery runner; love of the game doubtful, in it mostly for "precious."
The Devil
Tackle
Solid blocker when "off the field" problems don't interfere.
Steve Smith
Bo Duke
Quarterback
Touchingly sad voice.
John Denver
Singer
Intensively competitive "Daisy" molester.
OJ Simpson
Running Back
Aggressive attacker.
Ad Rock
Coach
Likes whippits; a skinny trick play master.
Chris Peiffer
The 1920s
Offensive Line
"The Twenties kicked ass. Period."
Peter Lorre
Safety
Runs into opposing huddles and whispers, "I'm really very sorry."
John Henry
Left Tackle
Pro: The best at what he does. Con: Known to suffer a "burst heart" in big-game situations.
A Manatee
Running Back
It is illegal to tackle a manatee.
Caid Peck
Alro Guthrie
Defensive End
Heartfelt lyrics move opponents to tears; blocks passes with father's reputation.
Caligula
Offensive Line
Buries opponents up to neck, decapitates; also "barbecue boss."
Aldo Nova
Lead Guitar
I listened to this guy before you pansies were even born.
Run-DMC
Addidas
"But homes you did not know / It was a can of dog food."
Eugene Park
Stephen Hawking
Wide Receiver
His so-called "brief" running patterns prove to be lengthy and wrought with abstract mathematics.
High School Nerd
Quarterback
After years of living on the periphery of adolescent society, this kid shows the world he really has what it takes.
The Dow Jones
Nose Tackle
Psyched for victory thanks to a strong second-quarter growth.
Traveling Bard
Center
His prolonged tales put to music draw the defensive line off-sides.
Sean Lucy
Fattest Spice Girl
Coach
An intimidating figure puts a lagging team into line.
Imonhotep
Offensive Coordinator
Designer of Pyramid of Dhoser will be the architect of an unstoppable run-and-gun offense.
Grover Sales
Linebacker
Possesses extreme saltiness and basic distaste for everything.
B. Real
Split End
Trash-talking and sagging pants enrage the opposing secondary.
Darell Tibbles
Ken Kesey
Quarterback
Great team leader, owns the team bus.
Bootsy Collins
Punter
Kicks ass on bass, then the football.
Mao Zedong
Defensive End
Rushes so hard the masses arise.
Buddha
Center
Enlightened; no need to snap.
Aaron Hoover
Walter Payton
Running Back
An obvious choice.
Roger Staubach
Quarterback
Engineered four winning Super Bowl offenses. Duh.
Jerry Rice
Receiver
Most receiving of any NFL player ever. I can't believe no one picked this guy!
Aaron Hoover
Coach
Loves the game more than life. Dreams in black-and-white. Doesn't get joke.
Eric Jorgensen
Ronald Reagan
Quarterback
Can win one for the Gipper; trouble remembering plays.
Liberace
Wide Receiver
Great hands.
Beck
Running Back
With the plastic eyes, spray-paint the vegetables.
Tony Danza
Linebacker
Anything with him is a hit!
Matthew Pierce
Anti-Christ
GM
Stated goal: organizing the most evil team ever.
Johnny Cochran
Running Back
Stiff-arm can even block justice.
Hitler
Quarterback
Weak arm, incredible motivator. Bonus: designs quality uniforms.
Old Man Henshaw
Nose Tackle
Man, that guy was "evil."