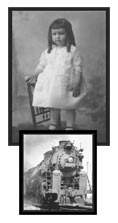 No one understands.
No one understands. That's the thing. I am the fattest toddler around, yet no on can harness any good out of me. And that is the goddamn problem.
It's 1893, and no one can figure any sort of future out of me. I should either die or fuel a railtrain. This is what they say. Sometimes I think I agree.
Then I remember the whole scheme of things. That's when I want to help.
So I will fuel a railtrain. 'Tis my destiny.