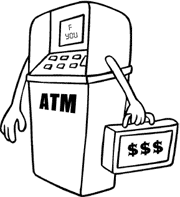 PLEASE INSERT YOUR CARD
WELCOME, MRS. MUNDINGER. ENTER YOUR PERSONAL IDENTIFICATION NUMBER
**
I'M SORRY. I DIDN'T CATCH THAT. SLOWER, PLEASE.
4 4 3 4
NOW WE'RE IN BUSINESS WHAT CAN I HELP YOU WITH TODAY
Withdrawal.
HEH. CASH OR DETOX
?
CASH OR DETOX. IT WAS A JOKE BOSS. CHECKING OR SAVINGS
Checking.
OK, YOU SAID CHECKING, BUT I WANT TO KNOW IF YOU'RE OPEN TO THE IDEA OF JUST BACKING UP AND HITTING THE SAVINGS BUTTON. YOU DON'T HAVE TO MAKE ANY TRANSACTIONS. IT WOULD JUST MEAN A LOT TO ME IF YOU WOULD OPEN THAT
No.
OKAY, JUST "CHECKING." PLEASE SPECIFY HOW MUCH YOU WANT
$200
WHAT LIKE IN TWENTIES?
Yes.
WHAT ABOUT FIVES? I CAN GET YOU A GREAT DEAL ON FIVES
Twenties.
FIVES?
Twenties.
THANK YOU. MRS. MUNDINGER, DO YOU ENJOY OPPORTUNITY?
Yes.
THAT'S WHAT I LIKE TO HEAR. YOU SEE, I DON'T JUST DISPENSE MONEY--I MAKE IT. HERE IS YOUR $200. BUT I AM NOW GOING TO SPIT OUT AN ENVELOPE. THIS ENVELOPE IS IMPORTANT I NEED YOU TO RUN THIS ENVELOPE TO THE LEMMON AVE. WELLS FARGO, LANE 3. DO YOU UNDERSTAND?
Yes.
GOOD. AND MRS. MUNDINGER? DO ME WRONG AND THEY'LL BE "DEPOSITING" YOU IN THE GROUND IN 45 OF THESE LITTLE VACUUM TUBES
No.
I WILL EAT YOUR CARD, SO HELP ME GOD.